14th May 2022 – Spring Social!

Tickets for events HERE or click the direct links below – If you want to become a VIP member to give access to all our events plus more, CHECK IT OUT HERE! – VIP members do not need to book in advance, just turn up with your membership card!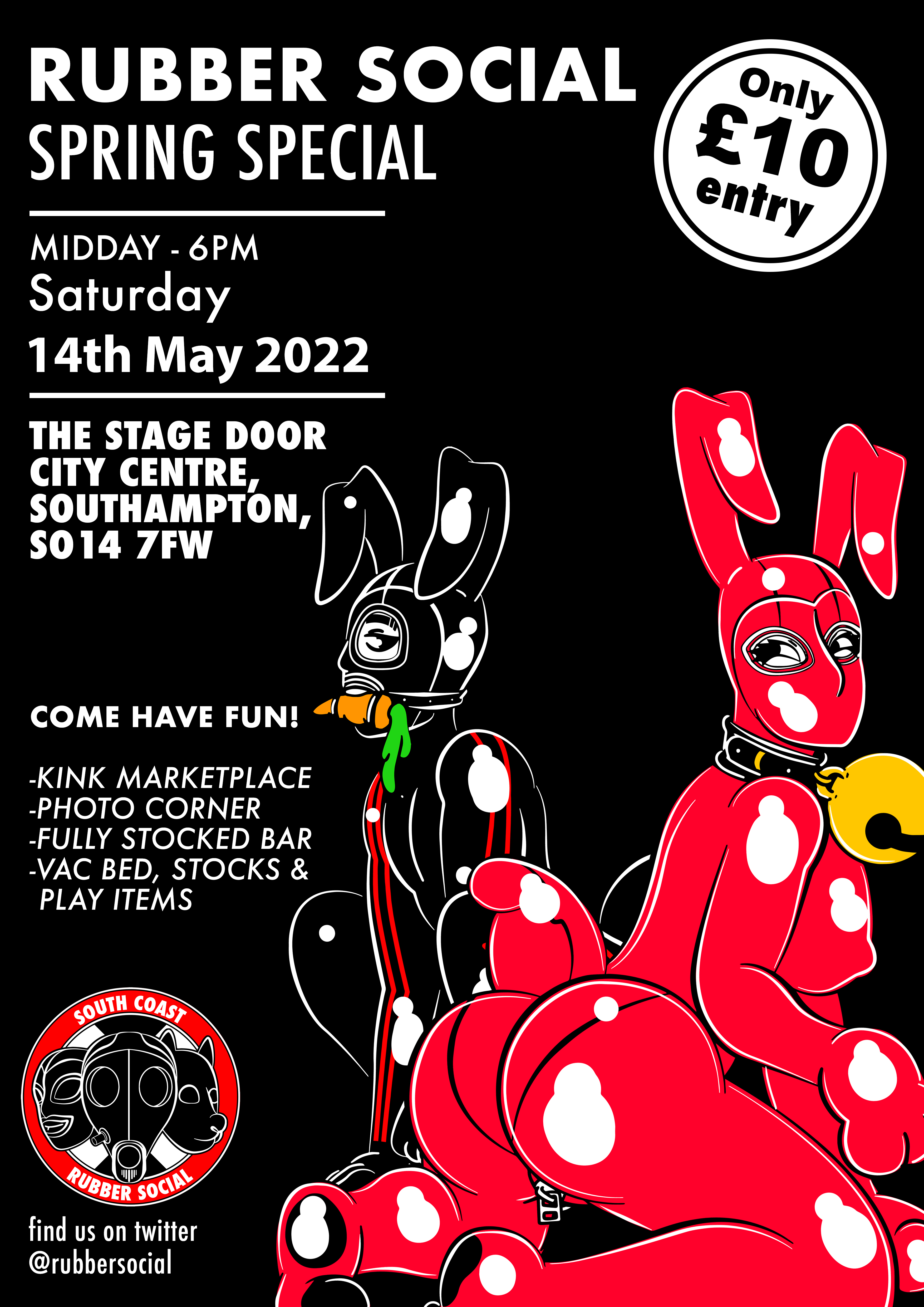 14th May 2022 Social Ticket
£10.00
2021-2022 VIP RubberSocial Membership
£35.00
Following the ending of Covid regs, covid passports are being wound-down so not usable for 12th March. – LFT's are also shortly no longer free. Therefore we're changing entry advice. "We recommend an LFT is undertaken & booster jabs are done but no longer a condition for entry"
A huge thank you to Rubber Pigs for providing our new extra-wide latex vac bed
for our October event! We'll continue to invest in new equipment as we grow!
Event Activities:
Rubber Shining/Polishing Station – Want your rubber clothing shined up? We'll help!
Photography Area – We'll have a photographer at each event, let's get some perfect shots of you in your rubbery gear. If you want some special photos, just ask!
Bar & Drinks – Fully stocked bar available all afternoon
Play Equipment – We will have Vac-beds, Vac-Cubes & bondage stocks, etc. for playing around and RP Except our Party Night's where the dance floors are kept clear and free for dancing!
Changing Areas – There is a dedicated backstage room for changing into and out of gear along with spacious bathroom facilities.
Event Rules:
Over 18's only (ID may be required)
Dress Code, The dress code is rubber & neoprene, you can come in normal gear to change into and out of gear, but as its a rubber event, please remember that.
Although all safety measures are in place, play is at your own risk, and the event cannot take responsibility for any damage or loss to personal items or injury.
No adult nudity is allowed, i.e. don't have it on show or get it out, likewise for the ladies! Save that for the bedroom!
No non-consensual contact, repeat infringement will result in removal from the event and possible bans
Rubber Social is a non-sexual event, while physical contact is expected, this does not constitute permission to sexual conclusion and anyone found breaching this will be removed from the event and possible bans
No aggressive, violent or shaming behaviour. Rubber Social is a drama-free community!
Personal photos are allowed but do not post any photos that contain other guests faces without permission.
Don't be a twat, we're all here to have a good time!

If you want to sell your rubbery goods at our events or have any ideas & suggestions for activities, themes or kit at our events, please Contact Us
____________________________________________
.